Email: bmanzerprc@gmail.com
.
A review of the literature of bibliometrics as it relates to the Middle East turns up a number of studies and a few articles deploring the paucity of such studies.1–7 It will also show that, while there have been studies relating to the region as a whole and a few individual countries, there have been no studies specifically relating to Bahrain. It is as an effort to remedy this situation and to be a stimulus to others that this article appears.
PubMed has included the affiliation of first authors as a searchable field since 1988. It is thus possible by searching both Bahrain* and Bahrein* to identify some 727 articles where the first author is associated with an institution in Bahrain. These articles have been tabulated in an Excel table of authors, titles, affiliations, citations and subject classification (using the National Library of Medicine (NLM) classification system). An analysis of these articles covering the 25-year period from 1988 through 2012 was then undertaken to determine:
The number of articles per year (Table 1),

The authorship characteristics of these articles (i.e., number of authors per article and the number of unique authors) (Tables 2 and 3),

The affiliation of the authors cited (Table 4),

The journals where these articles appeared (Table 5) and,

The subject distribution of the articles cited (Table 6).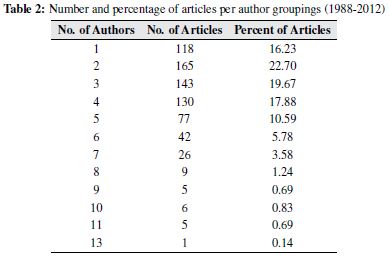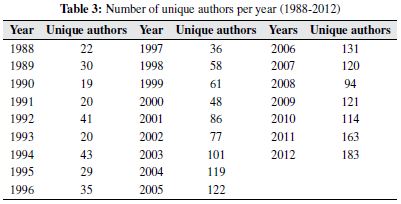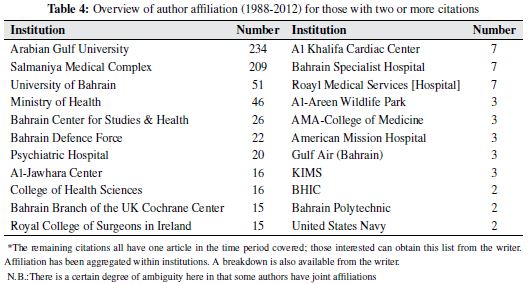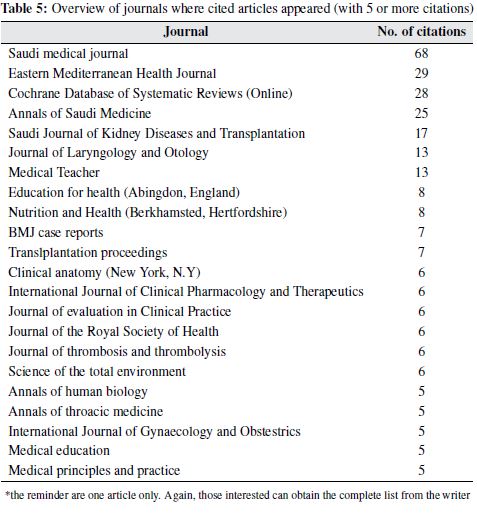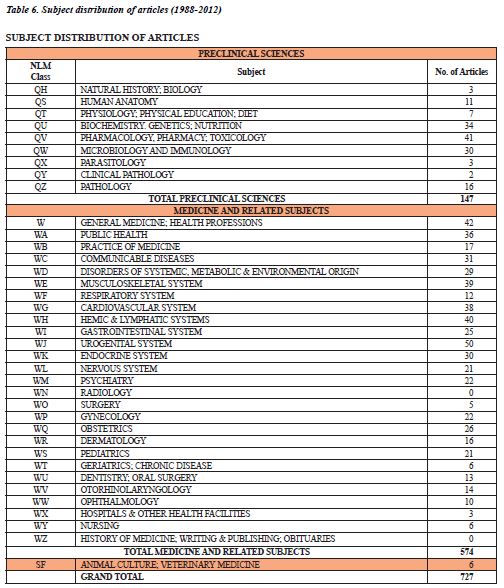 NUMBER OF ARTICLES PER YEAR AND THEIR AUTHORSHIP
It can be seen that, while the general trend over the time period has been upward, it has been erratic. After a brief decline (2008-2010), however, there has been a distinct, sharp spurt. 
Most of the 727 articles were authored by two writers (165), followed by those with three (143) and then four writers (130). Single authorship accounted for 118 articles. The range of number of authors was 1-13, with a median of 6.5.
Like the number of articles per year (Table 1) the general trend over the time period was upward but erratic, and again a retreat in 2007-2008, followed by a spurt upward from 2011 onward.
AFFILIATION OF AUTHORS
The bulk of the articles during the time period covered were, not surprisingly, produced by authors affiliated with four entities: the Arabian Gulf University, Salmaniya Medical Complex, the University of Bahrain, and the Ministry of Health.
JOURNALS WHERE ARTICLES APPEARED
Among the top five journals where articles were published, three are Saudi: Saudi medical journal, Annals of Saudi medicine, and the Saudi journal of kidney diseases and transportation.
SUBJECT DISTRIBUTION OF ARTICLES
Among the Preclinical sciences, the most heavily represented subjects were:
Pharmacology, Pharmacy & Toxicology

Biochemistry, Genetics & Nutrition

Microbiology & Immunology
Among Medicine and Related Subjects the following topics are represented most:
Urogenital system

General medicine & health professions

Hemic & lymphatic systems

Musculoskeletal system

Cardiovascular system
OBSERVATIONS
It is felt necessary to point out several incidental observations made during this analysis:
Authors should be consistent in the use of their names. A number of authors have permuted their names, romanized them inconsistently, and used them with varying degrees of completeness. One author's name appears in 11 different forms. This point is especially important for future indexing and  searching purposes.
Further, titles should concisely reflect the contents of the article. "This works for us" is not a useful title for an article about "Therapy for pancreatic cysts in childhood;" nor is "The use of levofloxacin and ciprofloxacin as therapeutic adjuvants for the treatment of cystic fibrosis in a children's hospital in the southeastern part of Baluchistan: a cross-sectional study and review."
CONCLUSION
Bibliometrics has been recognized as a powerful tool in the armamentarium of quantitative research assessment. It provides answers to such questions as: what impact is our research having, in what subject area are we strongest and weakest, who is undertaking it, and at what institutions is it being conducted? The answers to these questions are vital to a nation's researchers and policy makers.
References
1. Aziz ABA, Khmakhem AM, Ghannem H. Bibliometric profile of Tunisian medical publications indexed in Medline from 2000 to 2003: part 2 - social relevance. Tunisie Med. 2007;85(1):9–14.
2. Benamer HT, Bakoush O. Arab nations lagging behind other Middle Eastern countries in biomedical research: a comparative study. BMC Med Res Methodol. 2009;9:26.
3. Tadmouri NB, Tadmouri GO. Bibliometric analyses of biomedical research outputs in Lebanon and the United Arab Emirates [1988-2007]. Saudi Med J. 2009;30(1):130–9.
4. Hayajneh WA, Hayajneh RA, Miqdady MS. A bibliometric analysis of PubMed-published Jordanian literature in the twentieth century. Jordan Med J. 2010;44(2):152–8.
5. Salem S. Bibliometric aspects of medical information in Arab countries. Bull Med Libr Assoc. 1990;78(4):339–44.
6. Tadmouri GO. Biomedical bibliometrics of a country with multiple identities: the case of Palestine. Ann Alquds Med. 2006;1(2):63–8.
7. Tadmouri GO, Bissar-Tadmouri N. Biomedical publications in an unstable region: the Arab world, 1988-2002. Lance. 2003;362(9397):1766.